5 Reasons Couples Argue
by EnRichment Place Clinicians on 03/19/19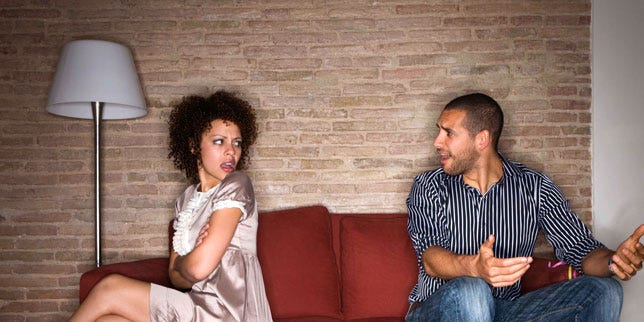 There are many reasons that couples have difficulties. Navigating an intimate relationship can be a minefield of past issues that have nothing to do with the present relationship. However, there are some arguments that are common themes.
1. SOMEONE WANTS TO BE RIGHT
Many times at least one or both partners have the desire to prove the other partner wrong or to be the one who is "right". Its important to ask yourself, "do I want to be right or be in a healthy relationship?"
2. SOMEONE HAS TOUCHED A PARTNERS TRIGGER
Knowingly or unknowingly, one partner will touch on the other's trigger issue. Let's say one partner has an issue with dishes left in the sink, the other partner may leave dishes in the sink, either on purpose or not knowing this is a trigger. Either way, hurtful words are said and now the couple is arguing. Learn your partner's triggers.
3. SOMEONE NEEDS TO IMPROVE COMMUNICATION SKILLS
Knowing how and when to communicate is extremely important. A poorly worded phrase or no communication at all, can destroy an otherwise healthy dynamic. Learn healthy communication skills.
4. SOMEONE FEELS THEIR NEEDS AREN'T BEING MET
It is important to communicate your needs but it is also important to know that some needs you will have to meet yourself. If you don't feel attractive, that is not a need someone else can fulfill. More quality time... this could be a need someone could work towards.
5. SOMEONE ENJOYS THE HOSTILITY OF ARGUING
As odd as it may seem, some individuals enjoy a good fight. They may have their own underlying issues that just lead them to be drawn to hostile interactions. These individuals may even believe that it isn't them, it is everyone else. Either way, they find themselves in a number of arguments with a number of people, not just their partners.
Whatever the reasons couples may argue, please know that arguing in and of itself does not have to be a deal breaker. There is help for improving communication and reducing conflict. The EnRichment Place provides counseling and couples workshops to assist with these issues. Give us a call today.